Step away from your regular routine and daily distractions for a great weekend of memory making with your preteen through college-aged son.
This Father-Son Retreat will help you to connect with one another and grow together in Christ. The weekend will be focused around the theme of living life to the full.  We will examine some of the wrong ideas we choose to believe about what abundant life and learn to see life from God's perspective.  The good news is that Jesus came to give each of us a "life to the full!"
This year, our virtual retreat allows you to customize your time together to fit your personalities and your needs.  You can plan your day with activities that will create some fun memories for you and your son.  We've got lots of ideas to share with you!  For the three worship and message times, you can choose to gather in small groups for watch parties to connect with friends, or spend one-on-one time with your son.  You could also make a fun getaway to a hotel or other destination to create your own retreat setting.
This retreat is also a great fit for father figures, grandfathers, uncles or family friends to participate with boys or teens if their father is not available.
The online retreat costs $10 per family.
This price includes 3 virtual worship and message sessions, downloadable content for the weekend including a retreat booklet, discussion questions, and activity suggestions.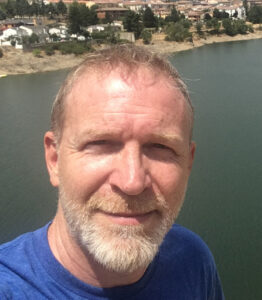 Giles was born in California and grew up in Chicago where he was a youth pastor and conference speaker for fifteen years before being called to Spain as a missionary.  He arrived in Spain with his family in 2005 with the calling to continue working with youth. It was his great joy to form part of a team that in 2007 started a youth group in his church in Madrid.  In 2011 he handed the leadership of that group over to Spanish nationals.  His ministry now includes providing mentorship and counsel for the leaders of the youth ministry at his church, writing and publishing devotional and fiction books for youth in Spanish, speaking at youth conferences and retreats, teaching a seminary course on youth ministry, and providing training a national conferences for youth and youth leaders around the country through his wife Debbie's role as national youth coordinator for the Evangelical Free Church of Spain.
When Giles was in Junior High and High School he was not brave enough to live out his faith in God before his friends, and so it is that nothing gets him more pumped up now than seeing youth living radically for Jesus (kind of like a dad who failed playing football when he was younger and now lives it out through his son, going crazy whenever his son does anything remotely good on the field).
He lives in Los Hueros, Madrid, Spain. He's been married to his wife, Debbie, for 27 years, and they have four children and two granddaughters.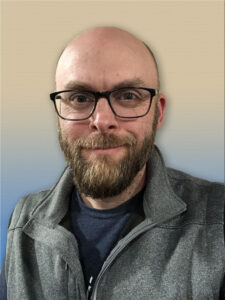 dAN has been worshipping the Lord with his guitar for over 20 years. He loves to celebrate the wonder and greatness of our God, calling out, "come and see what God has done: He is awesome!" (Psalm 66:5)
He started his ministry working with teens in St. Louis, MO. It was there he met his wife, Jamie, and served with Steve and Sara Otey. Over 15 years of ministry in that church, dAN and Jamie
– discipled and taught hundreds of students
– went on a combined 25 mission trips to Haiti, Mexican, inner city U.S., Russia, Estonia, and Romania
– worked 576 culminated days at camps and retreats
– attended dozens of leader meetings 
– pulled 6 youth lock-in events
– led 18 unique small groups
– led over 3,376 worship sets 
– and ate roughly 3 million pieces of free pizza at church events… or maybe it just felt that way.
Over time they developed a passion for the work God was doing in their teens while at camp, and began looking for ways to do that ministry more full time. God opened the door for them to move their ministry to Forest Springs Camp & Conference Center in Northern Wisconsin where they continue to minister to teens, college students, and families while dAN continues to lead worship to groups of varying age, race, and football team preference. Together dAN and Jamie have four boys – Will, Aiden, Josh, & Noah – and one adopted daughter, Jyn.
Steve has been in youth ministry for over twenty years, partnering with his wife, Sara, to lead youth and family ministry initiatives.  Steve and Sara have four daughters, who also enjoy and are very involved in serving in ministry.  From 2003-2019, Steve served as the Junior High Youth Pastor at First Free Church in Manchester, MO.  Steve and Sara love to see teens and families transformed by the power of the Gospel.
Steve will be hosting the retreat and developing a creative list of activities and discussion questions that will help dads and sons make memories together, hear and learn Biblical Truth, and connect in new ways.  He prays the Holy Spirit will be at work in the lives of the participants.
Optional T-shirt
Buying and wearing this t-shirt helps to spread the word about Engage Family Ministries and reminds you of the importance of living "Life to the Full." Proudly wear your t-shirt and remember the valuable time spent together, as well as, the Truth you learned.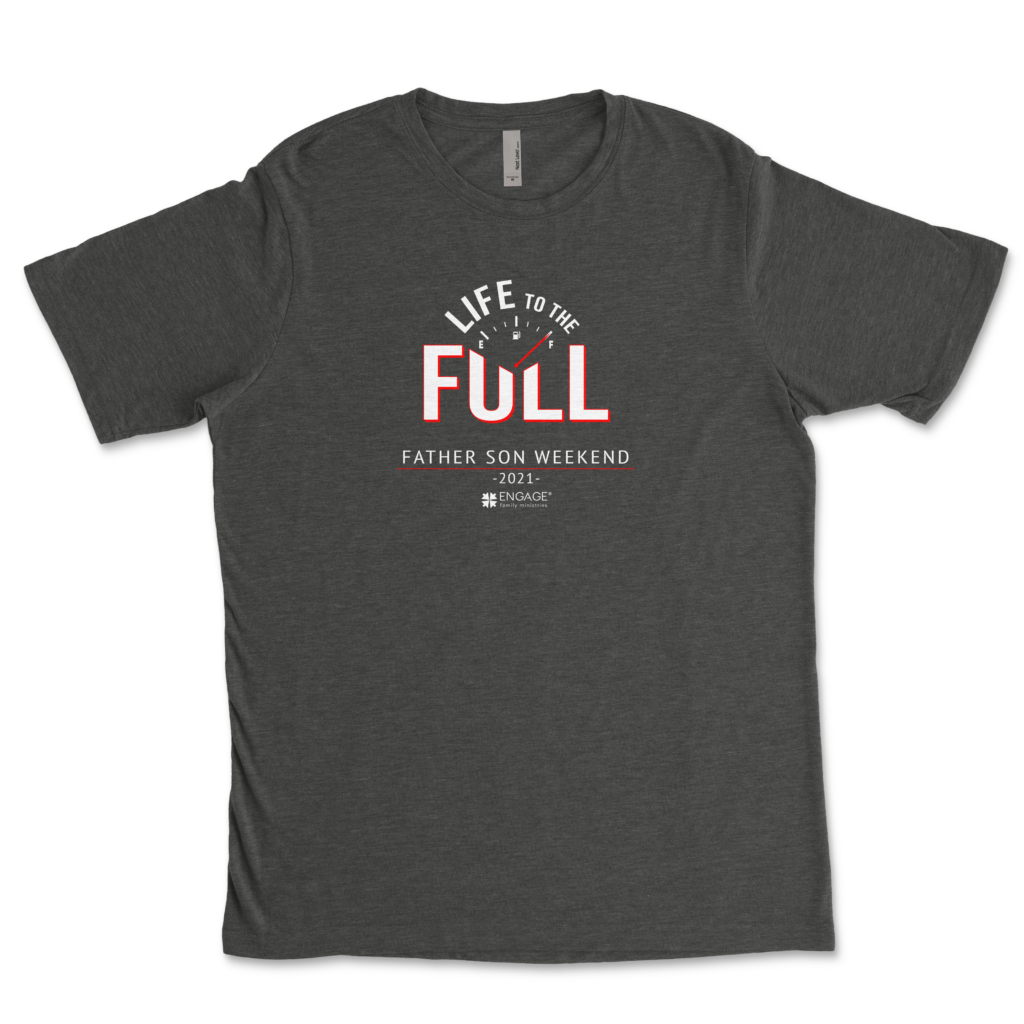 Frequently Asked Questions