The Story of Engage…
Exactly one year ago today, Sara and I decided to follow God's leading to launch a non-profit. Here's the story…
After doing youth ministry for over twenty years, I've learned a few things. I've seen the emotional nature of a group of 8th grade girls, seen the awkwardness of a 6th grade boy standing in the shadow of an 8th grade girl who's two feet taller than him, and smelled the unique smell that only a camp cabin of Junior High boys can create. I've also seen first-hand the incredible impact that only parents can have in the life of their teens. Power to bless, encourage, equip, and prepare for the future, or the power to curse, discourage, neglect and simply exist in the same space together until graduation comes.
It's this power of parents being intentional in the lives of their children that intrigues me. Every study that's been done into the influences in the lives of teens shows that mom and dad still have more influence over their teen than anything or anyone else. Now, teens won't say that to their parents directly, but when it's anonymous, blatant honesty is a little easier. And over the past several years, Sara (my wife) and I have felt God leading us in this direction. I've always connected well with parents and seen God's blessing when doing training events with parents, but it seemed God was doing something more. As we've been involved in leading a family missions trip, family retreat, and parent-focused Sunday school class at our church, God was confirming that this new direction is where we wanted us to go.
Sara and I took a trip to Colorado in October of 2018 to pray and reflect about where exactly God was taking us. I had been feeling the Lord leading me to pursue family ministry and parent training for several years, and those ministries weren't the direction that my church was leaning. One of our good friends suggested we get away for a few days to pray and seek God's will, so we cashed in some points on Southwest Airlines and headed to one of our favorite places on earth: Estes Park, Colorado and Rocky Mountain National Park.
On the first day, we went on a hike to Alberta Falls, and began talking about "what ifs". As we questioned, struggled, and dreamed about what exactly God might be doing with us, an idea formulated and captured our imaginations. "What if I resigned from the church and we started a non-profit ministry to do Family Ministry with churches beyond our own?" First Free, our church home of almost 16 years at this point, has some amazing ministry to kids and teens. But so many other churches need help in those areas and don't really offer anything for families.
Two days later, we got up early to see the sunrise in Rocky Mountain National Park. After Sara took some amazing sunrise pictures, we drove to the Sheep Lakes entrance to see if there were any bighorn sheep there. On the drive there, I mentioned to Sara that I really thought this could be the direction God was taking us, but felt like I needed a little more confirmation before I could commit to it. I thought that would come in the form of conversation with friends once we got home. Boy, was I wrong!
When we arrived at Sheep Lakes, there were no sheep. (The story of my life! I've always wanted to see a bighorn sheep at that spot, but I never have. Why is it called Sheep Lakes if there are never any sheep there!?) Sorry. It felt good to get that out of my system. Since there were no sheep, we pulled in the parking lot and decided to spend some time praying about the situation. One of our friends and longtime Summer Camp speakers, Giles Davis, often talks about praying with your eyes open. Since we were in such a beautiful location, we decided to do that. I started praying for God's clarity, guidance, and confirmation. I'm sure it was an amazingly eloquent prayer that would inspire people, but I honestly don't remember exactly what I said. Less than a minute into my prayer, Sara said: "Look at that!" As I had been praying for confirmation, a rainbow was beginning to form. It had been an overcast day and didn't seem like ideal rainbow weather. We said to each other that this was a pretty clear confirmation! We got out of the car and walked into the field to watch. It was a defining moment in our lives. I remember the exhilaration of experiencing God bringing clarity and confirmation in such an amazing way. It was unbelievable! The rainbow kept growing, and ended up being a very bright double rainbow that stayed bright in the sky for just over 2 hours!
The symbolism of the rainbow was not lost on me. The Noahaic covenant in Scripture involves God bringing new beginnings and a promise of His presence in the future. God is doing a new thing with Engage, and He promises to be with us as we walk this new path.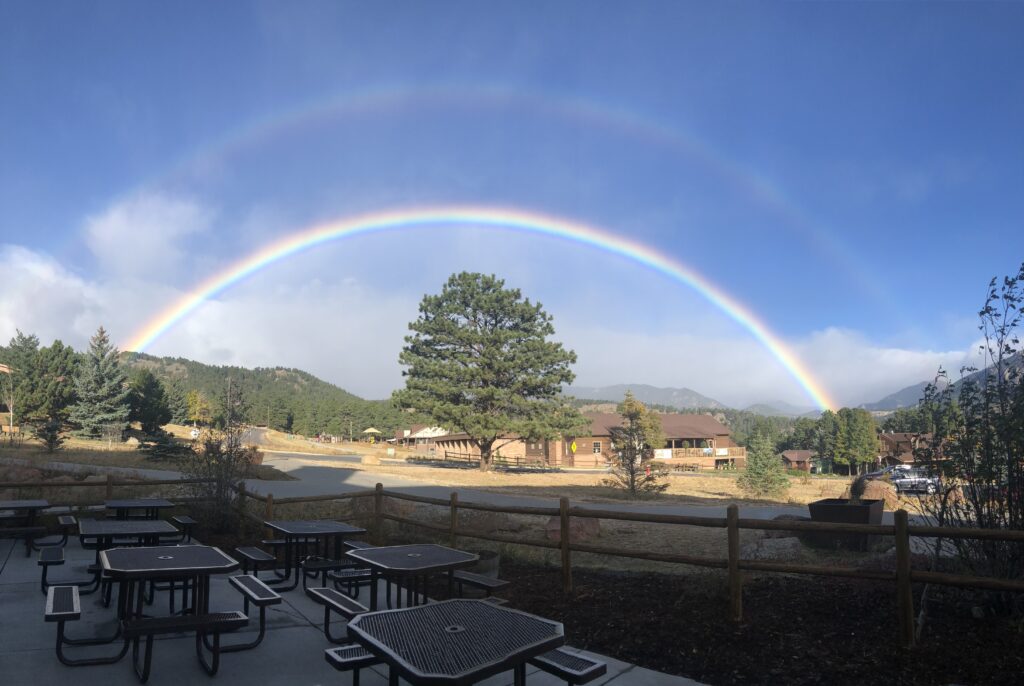 What if we could create a ministry to help everyone in the family pursue God and move towards each other?
The question that started it all was this "What if we could create a ministry to help everyone in the family pursue God and move towards each other?"  What if we could help parents to model a healthy relationship with God and healthy marriages, and we could help kids to pursue their siblings and parents?"  The answer, as stated by a good and sarcastic friend… "that certainly wouldn't stink!"
So, our hope with this new ministry is to help families engage with God and each other. We hope to partner with churches and families in the St. Louis area and beyond to provide teaching, events, and experiences to help parents and kids move towards God and each other. And in it all, we have every confidence that this is where God is leading us. His presence will be with us, and there's no place we'd rather be.